Crowdfunding Rookie: Behind the Scenes on Launching my First Crowdfunding Campaign
March 9, 2017 @ 11:00 am

-

12:00 pm

Free
It seems like every week we hear about some idea that raised over half a million dollars on Kickstarter, so how difficult can crowdfunding be? Frederick Adenuga, from the Grandview based product launch company Trident Design, will discuss just what it took for him to launch his first crowdfunding campaign for his product Sweat Seal (an underarm sweat absorbing shield preventing sweat stains).
Adenuga will be going over how long he has been developing the idea, why he felt crowdfunding was the right option for him, what resources he used to prepare for the campaign, why it's called "Kickstarter" and not "Kickretire", and how the campaign is going thus far (it launches on March 1st).
Adenuga will also be available to answer questions on the crowdfunding process and set everything up for the 2nd in this two part series with Trident Design! In April we'll review his campaign success and take everyone into a crash course of Trident's view and process of crowdfunding they use on their own products and other companies when hired to do so.
Attendees will be able to hear firsthand what it really takes to prepare, launch, and manage a Crowdfunding campaign.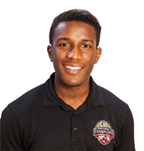 Speaker: Frederick Adenuga is the Public Engagement Coordinator for Trident Design. A Venture for America Fellow, Frederick graduated from Florida State University in 2015, and then moved to Columbus, OH to begin his fellowship supporting startups and small businesses in the areas of PR, Product Development, and Operations. More recently Frederick has graduated from the Next Level Discovery and Breakthrough Leadership Training Program and is currently a student in their VIP course. Additionally Frederick is currently crowdfunding his first product Sweat Seal.
Related Events